The challenge
Build an international website factory allowing for local variations
What makes users happy now?
A powerful news synchronization engine and multilingual content management.
What made BNP Paribas AM so happy?
A gradual, agile transfer of technical skills, using a devops approach.
The technical solution
A website factory WordPress, with theme variations and additional ReactJS components.
site created in partnership with Tequila Rapido
Discover the BNPP x Be Api story
How do you effectively design and deploy an international website factory ?
BNP Paribas Asset Management, the BNP Paribas Group's asset management subsidiary, has a multitude of websites - institutional, commercial, informative... - for all its numerous brands and subsidiaries in over 35 countries. Our objective? To design website factory to manage all these sites within a single platform, while allowing for the necessary adaptations to suit local conditions. A challenge successfully met by Be API thanks to WordPress, in partnership with the Tequila Rapido agency.
The teams had already spent some development time on Sharepoint when they contacted us, but this technology didn't allow them to achieve their goal, unlike WordPress.

Amaury Balmer
Founder of Be API
A state-of-the-art website factory thanks to the WordPress ecosystem
"To enable local deployments of this multilingual platform, we had to create 12 different variations of WP themes," explains Nicolas Juen, Be API's Technical Director. To present the financial tables, the developers implemented ReactJS components. Later in the project, they also managed the reinternalization of hosting within BNP Paribas' IT department, thus meeting the bank's high security requirements.
"But the biggest challenge was the synchronization engine!"
Nicolas notes the fine performance of the technical team. "We have industrially developed an engine that allows news to be pushed to all the factory's sites at the same time, while allowing linguistic and local adaptations to be managed by subsidiary contributors."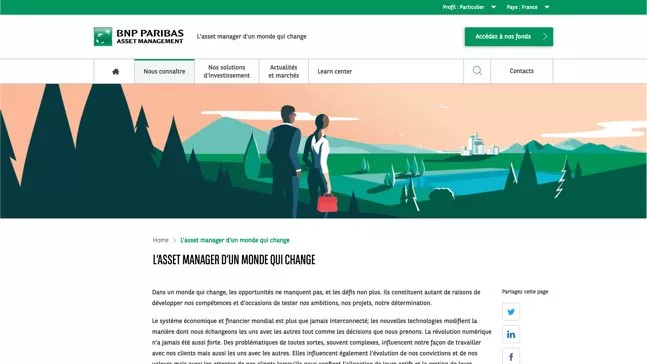 Maintenance: a gradual transfer of skills
"When we entered the maintenance phase, after going online, we began a gradual transfer of skills to the BNP Paribas AM development team," concludes Amaury.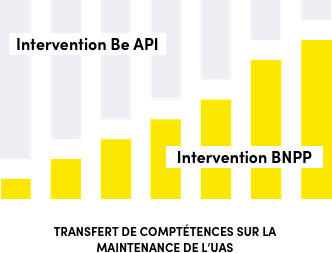 The transfer begins with training for the developers by Be API experts. They then delegate increasingly complex maintenance operations to the customer's team. "Our experts reviewed all modifications and updates, validating them as they went along and ensuring a real learning curve," explains Nicolas. The advantage? When, finally, Be API is no longer involved at all inwebsite factory maintenance, in-house developers can feel completely at ease.