The challenge
Simplify the user experience and make content easier to read. Redesign the site's visual identity with one constraint: few visuals.
What makes users happy now?
Simplified access to searched content.
What made OCHA so happy?
A new graphic charter.
The technical solution
A powerful search engine.
Content import.
Discover the Ocha x Be Api story
How do you combine data analysis and a new visual identity when redesigning a site with lots of content?
The previous OCHA website had already been produced by Be API, but in 2012! That version featured a lot of content. The main challenge was to simplify the user experience and make content easier to read, while rethinking the visual identity.
Define the redesign challenges upstream
Prior to the redesign, we carried out a site consultation audit, which enabled us to see that visits were qualitative and committed. However, we still lacked a great deal of information on visitors and site visits. We therefore worked with OCHA to establish a number of KPIs:
Specify site objective - main purpose of the site
Getting to know visitors better
Identify the site's negative points
Propose other ways of "consuming" content
Restructuring navigation and reception according to user needs
User surveys to refine our concept
To do this, we needed to conduct an online user survey (the most qualitative data comes from users, not from what we think about targets). We therefore submitted a questionnaire to identify users' needs & expectations.
The conclusions of this survey were that :
Users are looking for information on OCHA topics, news and events.
Despite a low level of engagement (very infrequent visits), users are receptive to OCHA content and give it a high level of credibility.
The site meets some of the expectations expressed, but does not guarantee easy access to information.
This allowed us to set out our vision for the redesign:
OCHA is an online magazine. You need to give your users looking for "hot" content direct access from the home page.
OCHA is a knowledge base. By separating the knowledge base from the editorial content, we can immerse the user in an interface designed to make searching easy and efficient.
Simplify navigation. By prioritizing the menu (in line with user needs), users will be able to navigate more easily between content types, clearly identifying what is a news item / an event / a documentary resource. The aim is to ensure that the user has access to all content and understands the different types of content.
Responding to needs through genuine research. It is important for OCHA to specify its mission and the content to be found on its site as early as possible. With a search function on arrival on the site, users can search directly in the editorial and documentary content.
A media site focused on relevance rather than freshness
We then set up co-creation workshops and established the following UX principles:
Categorize content for better visibility:
We worked with the CNIEL in a workshop to sort out the content and functionalities of the old site, categorizing them to simplify the menu and navigation as much as possible.
> give users a choice of navigation.
Precise search via the engine or content discovery by scientific theme.
Advanced search engine :
Search is a key element in this redesign, given the sheer quantity of content and media on the site.
It was therefore decided to create a search field, with the option of filtering and sorting. The search field includes a tolerance for typos, again to facilitate access to content.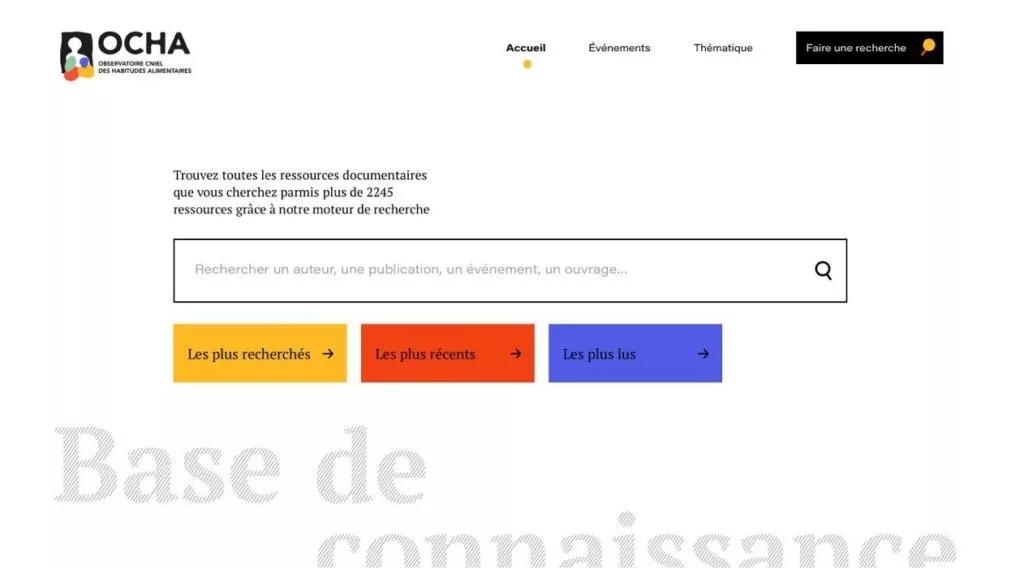 Useful content feedback
We've put together a homepage entry not on the latest books written, but on books that deal with the scientific controversies of the moment, regardless of when they were created.
A media site without visuals, a typographic challenge!
As part of the redesign, we helped Ocha find a new logo and identity.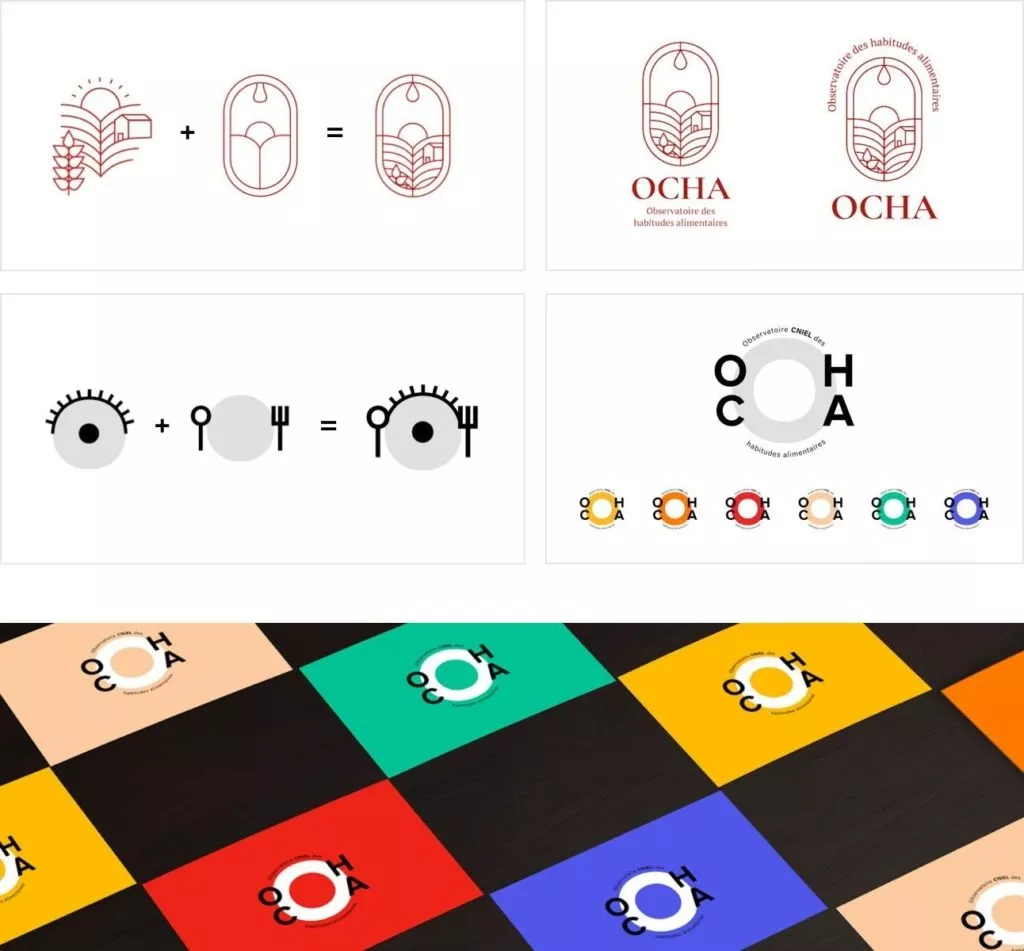 During artistic workshops, we worked together to refine the visual lexical field for the redesign of their site. A site where typography will be used to hierarchize elements, despite the absence of photographs.
The choice of artistic direction was therefore naturally based on the main constraint: no (or very few) images.

We opted for a journalistic, very typographic, black-and-white style, where hatching, type sizes and styles create a comfortable reading experience and a graphic identity.
Pictograms for the categories :