The challenge
Standardize the Staci group's image across all its country sites
What makes users happy now?
Arrive directly at the content that interests them (expertise, achievements, etc.), thanks to the acquisition strategy in place.
What made Staci so happy?
The provision of a modern tool common to all country subsidiaries, and the distribution of shared content between countries.
The technical solution
A multilingual website factory WordPress with content synchronization between the corporate site and country subsidiaries.
Discover the Staci x Be Api story
How do you harmonize Staci's digital ecosystem while leaving subsidiaries sufficient latitude to generate leads in their home markets?
Founded in 1989, Staci has developed a range of innovative, customizable logistics services to meet the changing needs of its customers and the rise of multi-channel distribution.
In 2019, Staci has decided to launch an in-depth review of its website ecosystem.
Over the years, Staci has acquired a number of companies in different European countries.
However, the websites of these subsidiaries had never been harmonized, either graphically or technologically.
Staci therefore chose Be API, the expert WordPress agency, for its experience in institutional projects and website factories, and its ability to mobilize a complete project team, combining design thinking, SEO and WordPress developments.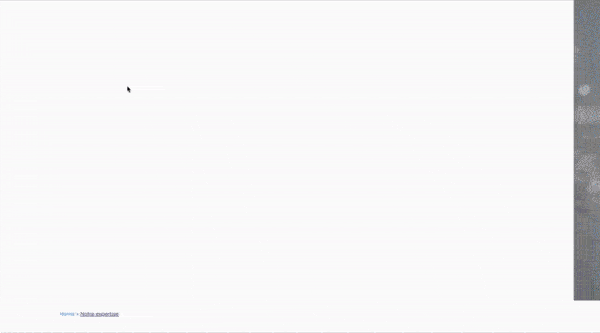 The old ecosystem
Each country subsidiary had its own site, with its own technology and charter. It should be noted that the France country site was incorporated into the corporate site.
The objectives driving this redesign were :
Standardize country subsidiary sites
Generate leads via country subsidiaries
Create a group culture with the new group website
Strategy for this project
We then carried out this project in several phases: To begin with, we carried out audits of existing sites, supplemented by interviews.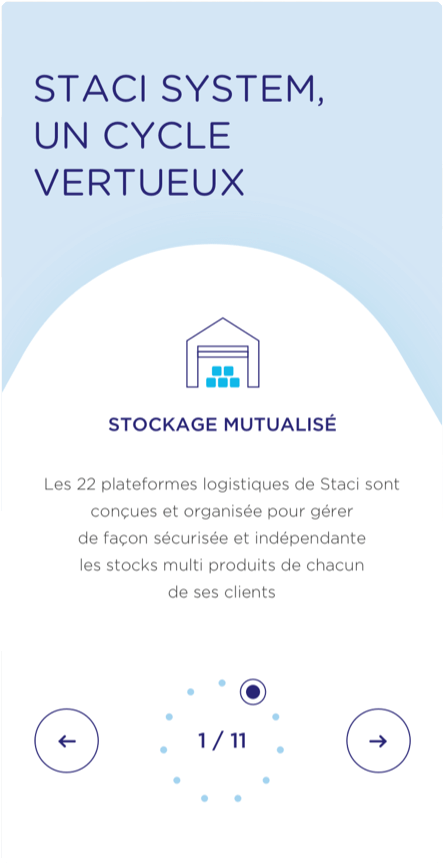 It was important for us to meet Staci employees in the field, particularly sales people, and to be physically immersed in the company's premises. To this end, a visit to a logistics warehouse was organized, giving the project team an insight into the realities of the company's business.
This enabled us to make a recommendation based on real feedback and not just beliefs.
As a result of this phase, followed by a series of co-creation workshops, we designed the structure of the new site platform with Staci, defining precisely what should be on the group site alone, what should also go down to the country sites, and the leeway to be given to the country sites regarding content and its day-to-day management in the back office.
During this work phase, we were also able to review all existing content, plan for new content, and define how to organize its contribution to the new sites.
With regard to page templates, in the interests of consistency between the sites, most of the templates designed were intended for use on the Group site and the country sites.

Focus SEO
In terms of SEO, we first carried out semantic and structural analyses.
In a second phase, we developed mapping recommendations for the various sites and the content to be written, with a goal that may seem basic, but which is essential: to make it easy for web users to find the information they're looking for, without language variants competing with each other.
Thanks to this SEO work, Internet users are now directly redirected to the right site.
The group site therefore provides generic information, and depending on the search criteria (keywords: expertise, etc.), the visitor is directed to the right page on the right country site, without having to stay on the corporate site. The aim is to direct them to specific content based on their expertise and achievements.
Main features implemented
Here are the main features implemented on the various sites:
Multisite (native in WordPress)
Multilingual with Polylang extension
Content synchronization between Group and country sites with the Content Sync Fusion plugin developed by Be API
Form / silo module with WP Forms extension
Creation of specific roles: country site managers have access only to their country site (native with WordPress)
Focus on one of these functionalities, which was one of the major subjects of this redesign: multilingual management.
In fact, the Group site had to exist in several languages, as did certain subsidiary sites, but with different languages depending on the site.
The system we've set up is as follows: one language by default, and each country site can manage its own specificities (for example, the Belgium site has 4 languages).
The Polylang extension has been deployed for this purpose.
Key figures for Staci's new WordPress website platform :
1 group site
8 country sites (Belgium, France, Germany, Italy, Netherlands, Spain, United Kingdom, United States)
6 languages (German, English, Spanish, French, Italian, Dutch)
344 pages contributed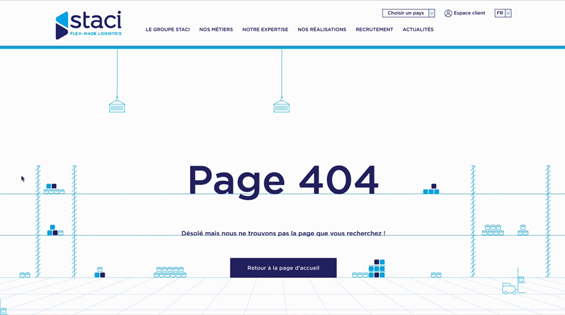 Art Direction
A visual repositioning with a strong focus on pictograms had already been launched by Staci. We built on this work to create the new web graphic charter for their web ecosystem.
It's worth noting that in addition to the charter and all the site graphic layouts, we also produced the video featured on the Home Page of all the sites.